Join the community in celebrating National Coming Out Day. National Coming Out Day is an event celebrated across the country. 29 years ago, on the...
Career Opportunities & Employer Relations would like to invite you to attend an Employer Seminar Series. Burns and McDonnell will present "Acing the Video...
Hear about the latest tools faculty are using in the classroom to enhance teaching and learning.
Get more details at http://grad.mst.edu/events/3mt/.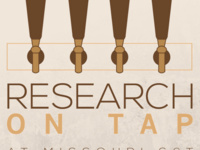 Research on Tap is a lecture series where you can listen to experts talk about their research on- and off-campus in an informal setting. You don't have to...