Are you interested in going to graduate school but not sure where to start? This interactive workshop will give you the chance to learn from current graduate...
The BIO 4010 class will be hosting an open house at the newly acquired Bohigian Field Station in Newburg, MO. Fun activities focused on environmental...
About the Dr. Thomas J. O'Keefe Lecture Series In honor of Tom O'Keefe, Sally and Joe (MetE'72) Rupp invested in and created the Dr. Thomas J. O'Keefe...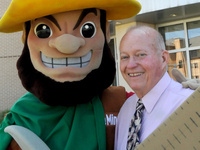 Alumni and friends are invited to join us as we honor the amazing and unmatched career of Jerry Bayless (CE'59, MS CE'62), associate professor emeritus of...