All faculty and staff instructors are invited to the workshop Building Blocks: Structuring Your Course for Success. There will be two offerings, both with...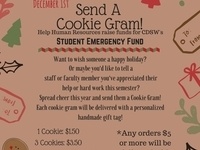 Want to wish someone a happy holiday? Or maybe you'd like to tell a staff or faculty member you've appreciated their help or hard work this semester? Spread...
The Fall 2017 Student Art in the Library Exhibit will be open from October 30th – December 8th on the second floor of Curtis Laws Wilson Library. The exhibit...