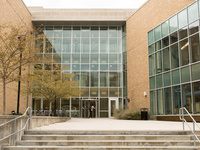 Representatives from Missouri State University will join Missouri S&T officials Wednesday for a signing ceremony to recognize the recent expansion of the...
Dr. Kathryn Dolan, assistant professor of English, will present a talk on "Washington Irving, Cattle, and the West"
Simplify citation tracking and organize your PDFs with Mendeley. This FREE presentation will introduce you to Mendeley basics, including how to get citations...
Blockchain technology has recently dominated news headlines in addition to tech headlines. Chris Rawlings, a scientist at Los Alamos National Laboratory...