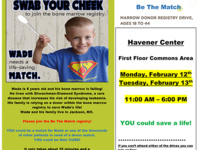 Be the Match, Bone Marrow Registry
Thousands of patients with leukemia, lymphoma and other blood cancers and sickle cell depend on the Be the Match Registry to find a donor to give them a chance for a cure. The matching process if based on your race and DNA, NOT blood type. Many patients, especially those of diverse ancestry, can't find a match.

It only takes about 15 minutes and a cheek swab to join the registry.
Must be 18 - 44 years old to participate.
Monday, February 12, 2018 at 11:00am to 6:00pm
Havener Center, First Floor Commons Area
1346 N. Bishop Ave., Rolla, MO 65401
Event Type

Website
Contact Name

Travis Austinson, St. Pat's Committee

Contact Email

mailto:tda8c7@mst.edu

Subscribe