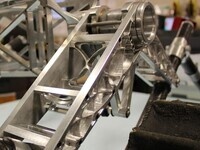 Mars Rover Design Team to Reveal 2018 Rover
The Mars Rover Design Team will reveal their 2018 rover "Atlas" for the first time to the public and share how everyone can play a part in crafting the story of humanity.
The event will include a presentation titled "Beyond Mars," multiple speakers, and of course, the unveiling of "Atlas" along with demonstrations of its capabilities. There will also be light refreshments and snacks, and the opportunity to talk with members of the team about new and future technologies on the rover.
The event is free and open to all students, faculty, staff, and the public.
Let us know on the event's Facebook page if you plan on attending: http://tiny.cc/RoverReveal
Friday, March 9, 2018 at 12:00pm to 1:00pm
Havener Center, Atrium
1346 N. Bishop Ave., Rolla, MO 65401
Event Type
Contact Name

Jake Mondschein

Contact Phone

6366757910

Contact Email

Subscribe