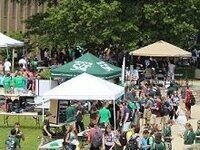 Philanthropy Month
In April, Missouri S&T students, faculty and staff will be immersed in opportunity to educate and engage the student body about the idea of giving to others.
Philanthropy Month will be a celebration of giving, growth, pride, progress and philanthropic spirit. Throughout the month Student Emergency Fund (Miner Wellness), Students Today Alumni Tomorrow (STAT) and Blue Key, will work to raise awareness by educating and engaging students, faculty and staff about the impact of philanthropy. These S&T organizations will also be promoting philanthropic events on campus, including philanthropy information booths, Whiteboard Wednesdays (encouraging students, faculty and staff to share what they love about S&T), a philanthropy themed scavenger hunt, topped off by a philanthropy fair we call "Philanthropalozza."
Throughout the month funds raised will go to the S&T Student Emergency Fund. This fund will assist S&T students by providing financial support with unexpected emergency expenses. Students sometimes have unforeseen circumstances that greatly impact their lives. The fund allows students to meet their needs and continue their education.
Tuesdays and Thursdays during April from 11 a.m. - 1 p.m.
Show your pride: Every Tuesday and Thursday, stop by the booth at the Havener Center or outside the library for games, prizes, snacks and free gear!
Whiteboard Wednesdays, during April from 11 a.m. - 1 p.m.
Write it down: Students from various organizations will be walking around campus with mobile whiteboards and pens. Write what you love about S&T and we will share it on our Facebook page. 10 students with the most likes on our Facebook page each week will win a gift cards to various local businesses.
Don't be clueless: Join a student team and compete in a week-long scavenger hunt. Daily clues will lead you through the amazing history of philanthropy at S&T. Golden tags will mark our locations. Take a picture of the item and send it to annualgiving@mst.edu to be in the running for a prize!
Follow us on Facebook for weekly clues.
Philanthropalooza (Friday April 27 / 11am-2pm):
Located between the library and the hockey puck. Help us promote Philanthropy at S&T while enjoying a block party style atmosphere! You are encouraged to donate to, or fundraise for, your favorite organization or charity. The event is free for students to attend, although it is suggested to bring money to donate to charity or participate in some events. Show up at the listed times for food, prizes and fun!
Monday, April 30, 2018
Various outdoor locations on campus
Event Type

Departments
Contact Name

Joel Goodridge

Contact Phone

573-341-7693

Contact Email

Subscribe