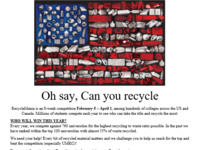 Recyclemania on Campus
It's Spring and the Eco-Miners are participating on behalf of our entire campus in a nationwide competetion! Every working-day for the next 7 weeks volunteer Eco-Miner Sprouts will be tabulating the amount of trash in waste bins and amount of recycled material all throughout campus. Please help us by finding the nearest bin to recycle in!

Volunteering in this event is made possible by each student's and faculty or staff's choice of action!
RecycleMania is a friendly competition and benchmarking tool for college and university recycling programs to promote waste reduction activities to their campus communities. Over an 8-week period each spring, colleges across the United States and Canada report the amount of recycling and trash collected each week and are in turn ranked in various categories based on who recycles the most on a per capita basis, as well as which schools have the best recycling rate as a percentage of total waste and which schools generate the least amount of combined trash and recycling. With each week's updated ranking, participating schools follow their performance against other colleges and use the results to rally their campus to reduce and recycle more.
Friday, March 31, 2017
Missouri S&T
Event Type

Website
Contact Name

Alice Tolstik

Contact Email

Subscribe