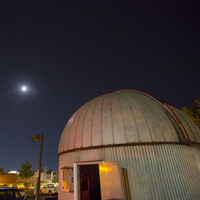 Missouri S&T Observatory
Open to the public throughout the semester for visitors' nights, our observatory houses a 16-inch diameter telescope. The observatory is also used as a teaching resource for certain classes taught by our physics faculty.
1870 Miner Circle, Rolla, MO 65409

4/23 9:30pm – Moon Come see pock marked surface of our single satellite. The shadows round the crater's rims and stretching across the bleak and forlorn...
Recent Events
Corey Harrington left a positive review
8/23/2017
Need to have the 16in telescope next time and possibly relocated it in due time. Too much light in the current location. Still cool to see Saturn and fun to meet new people and I appreciate the staffs time.